Game Dimensions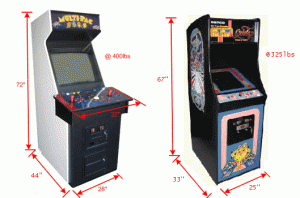 Arcade Games
Place machines at least 4 inches from wall to allow for power cord and air flow.
Most machines have built in wheels in the back and can be easily moved around on hard surfaces.
Machines may be transported safely upright or on it's back (preferred).
A standard 6 foot bed pickup truck is ideal for transportation.
Ms. Pacman/Galaga based machines CAN fit in a large SUV, but just barely. With all the seats down and no cargo. Larger machines such as the MultiPAC will not.
Pinball Machines
The back box hinges forward for shipping
Pinball machines may be moved on their back or upright. There are feet on the back of the machine. Legs need to be removed for upright moving first.
Remove all pinballs before moving machine upright as they will fly around inside the machine and damage components.
With leg levelers may add up to 1 3/4″ to the overall height of the machine.
Older EM games have smaller dimensions
Widebody pinball machines will have the same overall dimensions, except the cabinet will a couple inches wider, but less than the back box.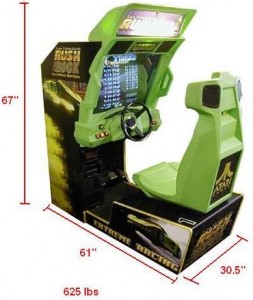 Driving Games
Measure your entrance doors. These games are big!
Some driving games such as San Francisco Rush / Rock do not separate at the seat. Do NOT try to move these up or down stairs without full dis-assembly. You will need to remove the monitor housing, monitor and seat assembly just to make the base platform (sled) light enough.
Most driving games such as Midway Cruisin' series and Rush 2049 DO separate at the seat. This essentially makes the upright portion the same size as a MultiPac (see above).
Tags: arcade, Dimensions, game
Leave a Reply
You must be logged in to post a comment.