News – Fall 2012

You would think it would be easy to keep up to date with monthly news. I don't know where the Summer has gone.
We've been busy with a lot of custom orders and will have some restoration articles coming very soon on the following machines:
Prototype F-14 pinball
Full restoration of a very very bad Kiss pinball.
Update to the Gottlieb Playball blog – did another restoration, this time with LEDs and a couple more items. It's certainly worth the look.
Another WWF Royal Rumble restoration – will update the respective blog on that machine.
Our STERN Sharkey's Shootout is finally finished. It had a lot of broken elements. Before it wasn't so much fun to play… but now that everything is working (restored and with better lighting to boot), it's a lot of fun.
We'll be starting a big restoration of our Bride of Pinbot shortly. It's going to get the full treatment and lots of chrome. ooooh shiny!
Did a nice restoration on a 1986 Williams High Speed and an Arctic Thunder arcade. We'll just put a couple pics below.
Had some pictures of our Stargate and Getaway restorations from earlier this summer (see below)
We're ramping up our inventory for the upcoming Holiday season. It comes so quickly and we always sell out early. So if you're considering, call or email us soon. We can hold a machine until the last minute and work with any special needs.
Misc Pictures from late summer:
Multicade (1981 resto/upgrade)
Midway 1999 Arctic Thunder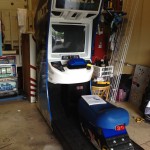 Williams 1986 High Speed
Williams 1992 High Speed II – The Getaway
Gottlieb 1995 Stargate
Go Braves!
Tags: Arctic Thunder, Data East, F14, Getaway, Gottlieb, high speed, multicade, News, Pinball, playball, restoration, Royal Rumble, Shootout, Stern. Sharkey, Tomcat, update, Williams, WWF
Leave a Reply
You must be logged in to post a comment.