Restored – Bally (1992 DMD) Doctor Who Pinball

Bally (Midway / Williams) thankfully had the foresight (or dumb luck) in allowing the designers to bid on their next pinball machine. Rather than go the simple route of making a product tie-in to some current fad or movie release, the Bally/Midway/Williams company realized that not all great ideas came from top down.
The result is an uncommonly excellent pinball machine – based off a very strange and low budget British mystery-science TV show – Dr. Who. I wasn't at all a fan of the show… in fact could only watch it for a couple of minutes before flipping to one of the other 3 available channels at the time. But, I remember enough of the show and legacy to know about this machine. Initially, I wasn't at all interested in even giving this pin a first chance. Thankfully, I had the option to purchase and restore one. Being a Bally DMD, it was a simple choice.
Before I started the restoration, I read the bio on the designer and the background leading up to the production of this machine. The story is quite fantastic and really helped in understanding the depth of passion that went into it's design and software programming. Finally, after turning on the machine for the first time (which I didn't even do until after the restoration), I was very surprised in it's game rules, flow and depth. Actually, had the machine not already sold to a customer, I would easily have kept this machine for myself… and to this day, really wished I had.
Unique Features
Usually, I don't bother with stating features of a pinaball machine, as it can be easily found in the various wiki sites. However, as I have played and restored enough machines, I wanted to point out items that stood out for me:
Custom GI lighting sequences. Usually the general illumination lighting is On/Off and sometimes level of DIM. However, this machine (while having the basic features), also has multiple GI controlled circuits, which allowed the software to apply lighting patterns for different times in the game. Very noticeable and cool effect (especially with LED lighting). The backbox also has multiple separate GI circuits for animation.
Use of pop bumpers. I enjoyed the around the back path to the top of the pop bumpers – which are used to increase the multiplier bonus. It becomes one of the many focal features of this machine.
Different ramp paths. This machine has a left/right ramp orbit (like many machines), but the left ramp shot has a neat cellar door feature that interrupts the flow.
Time expander – mini playfield. Yes of course, the main toy in the game. Very cool moving platform with 3 levels and integrated perfectly into the game. Not overdone, not oversized and not the entire purpose of the game.
Moving Dalek topper. What a cool feature… makes you want to look up while he is barking at you.
This game is as fun to watch as it is to play.
Restoration
This machine was probably on route for a couple years at best before it was shopped and sold to a home. There it was played very mildly for the next 15+ years before coming to me. It was very well preserved, with the obvious impacted dirt and various broken down elements that you would expect on a 20+ year old machine. The cabinet and backbox were literally blemish free. The playfield and plastics were without damage. This machine was a great start, but still needed to be taken down to the wood and rebuilt.
Flame polished ramps.
Removed and rebuilt time-expander playfield. Broken optics and VUKs
Polished and waxed playfield and plastics
New pop bumpers. Originals were in pieces.
New slingshot assembly
New flippers and linkages
Full custom LEDs.
Under cabinet LED flash light effect. See the video below!
New balls, legs, cabinet protectors
rebuilt sound board and DMD driver
Moving Dalek topper. Thankfully, this machine had the original fixed Dalek topper. It was removed and modified to move and flash along with the game's original software programming.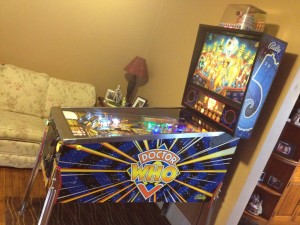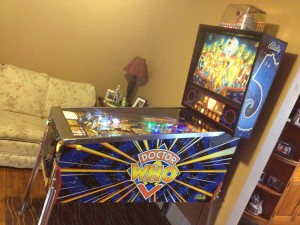 Tags: Bally, bbc, dalek, doctor, dr, LED, Pinball, restore, who, Williams, wobble
Leave a Reply
You must be logged in to post a comment.