Restored – Gottlieb (1971) Playball Pinball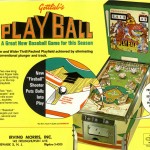 The "wedge head" pinball machines are part of a unique series produced by Gottlieb in the late 1960's to mid 1970's. They are called this because of their unusual shaped back boxes. As well, these machines are just a little bit smaller than machines produced by their competitors Bally and Williams in the same era.
Wedge heads are considered top prizes by electro-mechanical pinball collectors world wide because of their unique game play and cutting edge features. Gottlieb owns the top 25 spots in the ratings of the top 300 electro-mechanical ever made… so there has to be something about these machines!
Features
The Playball from Gottlieb actually differentiates itself from other machines in this era because of the following innovative features:
Ball is stored and ejected out to the playfield from between the flippers.
Auto plunger – no manual operation for shooting the ball on the playfield. Use the right flipper to actuate the plunger.
Auto ball save – must hit 10 or 100 point shots or the ball will be saved. The flippers wont even be activated until points are accumulated. This is so cool for this era!
Single player game – which means they used all the typical logic for rules. This makes this game have depth other than just shooting the ball around hitting targets.
Score and Runs – and awards collected for reaching certain levels of each
Match play – match the score with a "random number" at the end of the game and receive a free credit.
Restoration
Gottlieb pinballs, well in fact most any pinball that is 40 years old, suffers from a lot of wood damage, wood rot, and rust. Additionally, most playfields will be worn to the wood by now in many places and much of the gloss finish has been worn down over time. However, the mechanisms usually can all be brought back to life because of their excellent build quality.
Our electro-mechanical restoration process concentrates on getting the most out of these machines, while retaining high (but recoverable) street market value. Often, these machines are worth $1000 more than the investment when completed.
This Playball had the typical rust, paint damage and wear. The cabinet retained good structure integrity, but the back box had been pryed apart and was damaged.
After repairing all the wood, we created our own paint stencils and stripped the machine down for the 4-stage paint process (prime/re-sand, base coat, stencil color 1, stencil color 2)
The top side of the playfield was also stripped down. This allowed us to restore the paint and extract a high gloss luster. Plastics were replaced along with many mechanisms.
Additionally, we replaced all the external hardware with new chrome pieces
Restoration Specifics
Cabinet and backbox strip
Cabinet and back box wood repair
Cabinet and back box 4-stage paint process – hand created stencils
New Gottlieb replica coin door, locks, strike plate, coin insert cover and plastics, start button
New legs, bolts, feet (with more modern versions)
lockdown repair, all mechanisms for lockdown removed, rust removed and prepared
Playfield removal, stripped and repaired.
Playfield detailed and protected
New star posts
New rubber
New ball
New lights
New flippers and mechanisms
New coil sleeves
cleaned and adjusted ALL contacts on playfield, solenoids, wipers in backbox and cabinet
cleaned and adjusted vari-targets, ball counter, match counter, score wheels, logic wheel
new pop bumpers and added mylar protection
repaired flipper skirt and added new score cards
Pictures
Before
After Cabinet
After Playfield
2nd Machine Restoration (Sept 2012)
We were awarded another restoration contract of this fine pinball machine.
This machine also had a full cabinet repaint, plus a little more work. We also added a full LED treatment!
If you have an electro-mechanical pinball machine, and would like yours restored to this level, contact us. Or follow the link to our restoration services.
Tags: electro, em, Gottlieb, LED, mechanical, Pinball, playball, restoration
Leave a Reply
You must be logged in to post a comment.