Restored – Gottlieb (1974) Skyjump Pinball

Another classic Gottlieb "wedgehead" pinball from their arguably most sought after period.
True to Gottlieb's single player design, the Skyjump is packed full of great features. The great think about a single player Gottlieb machine is that it still uses the same number of relays and logic circuits as the multi-player pinball machines. This allowed Gottlieb to create depth and rules to the game, rather than it just be a simple target shooter.
Another signature feature of the this era of Gottlieb machines is their use of a long series of drop targets. This machine integrates the 7 drop targets with the 7 numbered inlane and outlanes placed all over the playfield in order to achieve higher target scores. Some of these shots can only be reached by rebounding shots off the pop-bumpers. Additionally, The center pop-bumper advances the 10x lit drop target, so that the shot changes all the time.
Wonderful color graphics, Gottlieb's patented chime sound and score match replays make this machine one of Gottlieb's all time greatest hits.
Original Condition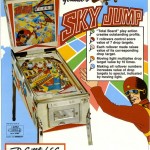 This machine, seemingly typical of all Gottliebs from this era, needed some serious love. If left alone, it probably would have rotted to the ground in another 10 years. However, we put our hands on this one just in time.
The cabinet artwork was seriously worn off, however the wood was still solid. If left alone, the wood would have started to delaminate and absorb water, eventually ending it's life.
The front door and entrance area were completely worn away. A previous owner had spray painted many of the metal pieces in attempt of preservation. While admirable, all of this had to be junked, along with the original legs and shooter assembly. Even the score card tray was worn and rusted.
The playfield was another issue. It had the typical surface area cracking (as all pinball machines prior to clear coating have). There was some wear down to the wood in front of the drop targets as well. Again, not too bad. This alone made it worth the restoration effort.
The backbox was suprisingly in good physical condition, but the glass had started to delaminate and the graphics were peeling.
Restoration
There was no choice but to do a full ground up restoration on this machine. Everything had to be removed from the cabinet and it needed to be sanded down, repaired and repainted. Of course, there are no available stencil kits for most Gottlieb machines, so we had to create our own for this model which is very time consuming.
The playfield was completely stripped, cleaned, buffed out and repaired. All star posts were replaced, rubbers, bulbs replaced and original plastics flattened, cleaned and reused.
The backglass was repaired and resealed.
All mechanicals were disassembled – as this machine did not work when we purchased it. So no point trying to trouble shoot this one. New flippers, linkages and sleeves were replaced. All pop bumpers were remvoed and completely rebuilt with new parts. We also added pop-bumper mylar to protect that area from any future damage as well as used stealth mylar in the area in front of the flippers and drop targets. That way, it can be pulled up without any residue and replaced in minutes without damage to the already delicate paintwork.
Summary:
Cabinet and head fully stripped, sanded and repainted with our 4-stage paint process (blocking/sealing primer, base coat, 2 color custom stencil).
New replica Gottlieb coin door, shutes, lock plate and all hardware
New modern pinball chrome legs
Playfield stripped, cleaned, buffed and paint repaired. Mylar and stealth mylar used for protection. Multi wax stages
New star posts
New rubber
New ball
New pop-bumper assemblies
New bulbs
Plastics flattened and cleaned
New flippers, linkages, contacts and solenoid sleeves
Cleaned and aligned all switch contacts
sanded and repainted upper and lower playfield skirts.
Repaired backglass and re-sealed
All circuits repaired to 100% operation
Pictures
Before
After
Tags: Gottlieb, head, playball, restoration, wedge
Leave a Reply
You must be logged in to post a comment.